One area that a lot of people are struggling with is; Finding good and relevant anchor texts for their backlinks.
Even if you are a pro and build a lot of links, it will definitely happen that sometimes you will run out of ideas. Today, I'll show you a simple GPT4 prompt that will help you get as many new anchor text suggestions as you need… And the good news is that they will help you to increase your ranking!
There is no doubt that the SEO industry has been shaken by the arrival of AI, some are scared, and some are excited. Let me tell you… If you don't want to be left behind, you have to start implementing AI in your workflow, as soon as possible!
NO, I'm not talking about generating content with AI!
AI has powerful analysis capabilities, it can definitely help you to scale your SEO operations if done properly! Now with AI, it's possible to beat Google at its own game, and I will explain how in this article.
We know that Google is heavily relying on NLP for its search engine and that Natural Language Programming is part of its algorithm.
Did you know that OpenAI has also amazing NLP capabilities? Well.. I think you start to understand where I am going now 😉
Let's use AI to beat AI!
OpenAI has the capability to provide NLP-friendly keywords, allowing us to generate a list of semantically relevant terms for any given topic that Google will love and understand!
What is an NLP-friendly Keyword?
Who's better to explain what an NLP-friendly keyword is than AI itself? Let's ask GPT-4 and see what it has to say.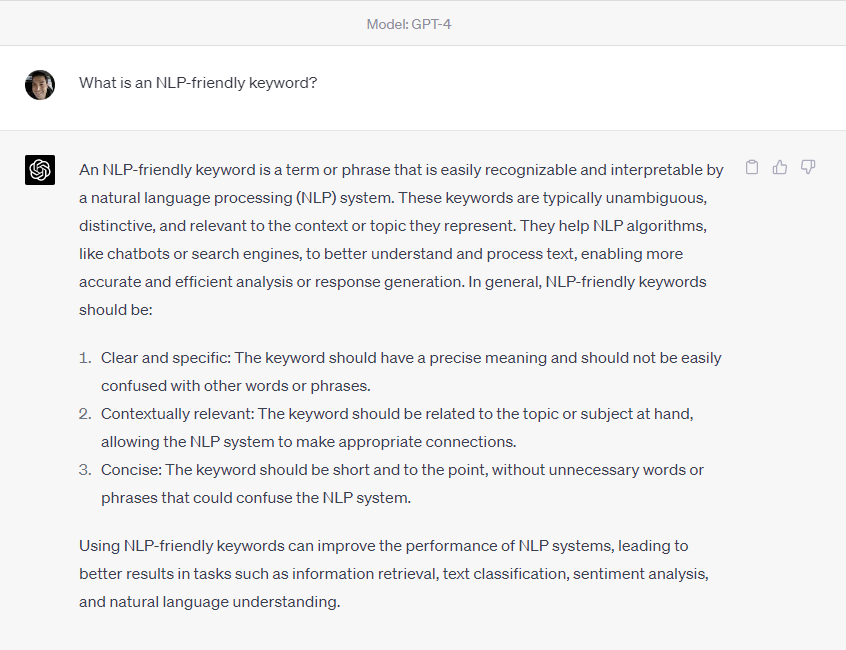 Oh, cool! So using an NLP-friendly format can make it easier for search engines to understand. Does that mean a higher ranking? I think so, but let's ask the AI 🙂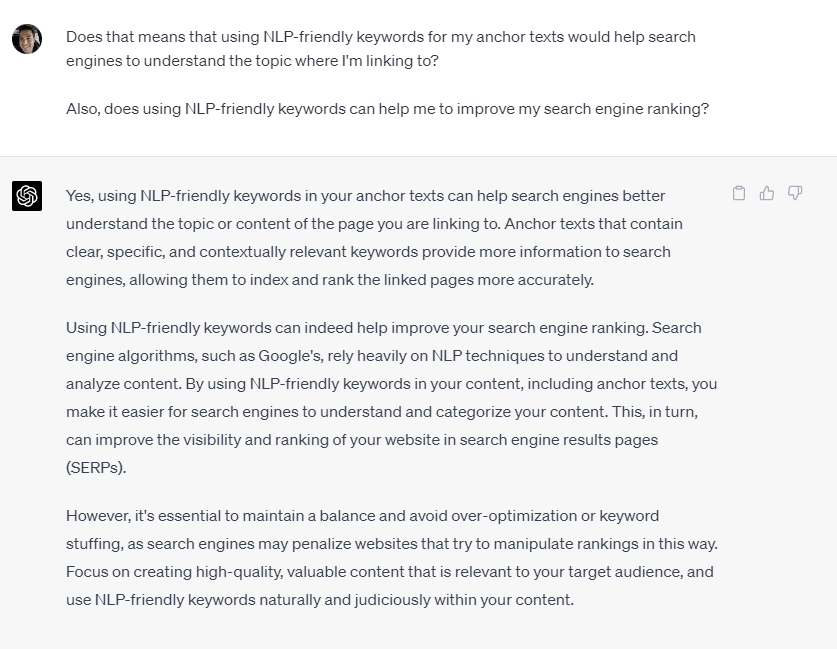 Alright! This is confirmed. What do we need to remember here? A few things:
Anchor texts must be:
Clear
Precise
Contextually relevant
Concise
Now that we know what we need to generate NLP-friendly keywords to improve our rankings, let's ask AI to generate a list!
Generating NLP-Friendly Keywords Using AI
Now let's start with what I'm sure interests everyone… The prompt!
PROMPT:
Generate a list of NLP-friendly anchor texts for the article "YOUR ARTICLE TITLE GOES HERE". Ensure that the anchor texts suggested are clear, precise, contextually relevant, and concise. Use lowercase letters, and make sure anchor texts have between 3 and 7 words. The suggested anchor texts must be extremely relevant to the title of my article. Lastly, avoid generic keywords like check out, read, click here, guide, etc.
So I asked ChatGPT to give me a list of NLP-friendly anchor text for my article on link-building mistakes and here is what I received.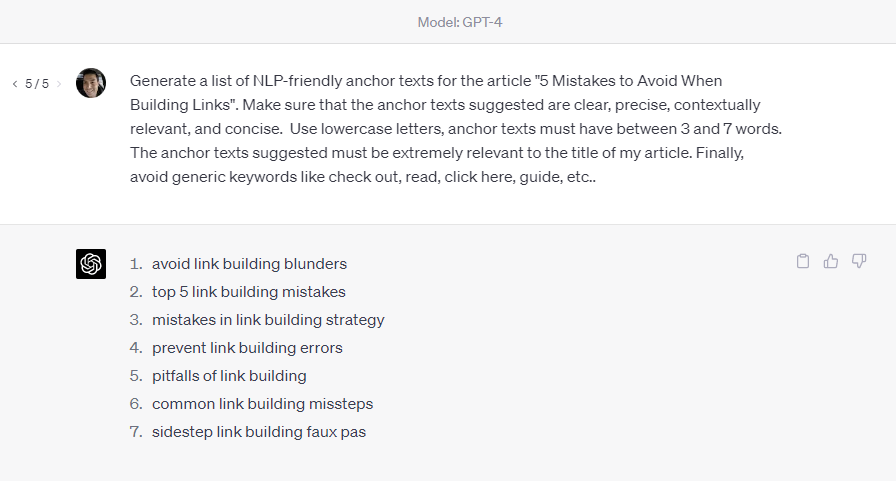 A very good list of natural and relevant anchor texts that I can use for my guest post backlinks.
The greatest advantage of using this approach is that you will generate a list of anchor texts that Google can understand. This will help you get the most out of your backlinks, as relevant backlinks tend to have a much greater influence on rankings!
Can I Also Use This Approach for My Internal Links?
You can definitely use this approach for your internal links, as they will be relevant and contextual to your article. However, you don't want to end up with the same anchor texts for both your backlinks and internal links. This would create a terrible footprint, indicating to Google that you've controlled the anchor texts for your backlinks, which might suggest that your backlinks have been purchased.
My best advice is to use NLP-friendly keywords for your backlinks and exact-match keywords for your internal links. With internal links, you can be much more aggressive in your choice of anchor text, so I recommend using keywords you want to rank for as anchor text in your internal links.
In my opinion, using exact-match keywords for your backlink anchors is not a great idea. Think about it: Can you imagine a webmaster wanting to link to you, checking your article in Ahrefs or SEMrush, looking for which keywords you rank for, and then strategically using that keyword as anchor text? Unlikely!
I'm not saying to never use exact-match keywords as anchors; it's fine as long as they represent just a small portion of your anchor texts. Just don't overdo it and try to keep your anchor text profile as natural as possible.
Buying links is totally fine, but be cautious. Don't show Google that you've chosen your anchor texts strategically; let them appear naturally. Many people fail to achieve results with their link building campaigns because they tend to use keywords they want to rank for as anchor text.
Avoid making the same mistake 😉
I hope you'll enjoy and begin to appreciate the benefits of incorporating AI into your SEO workflow.